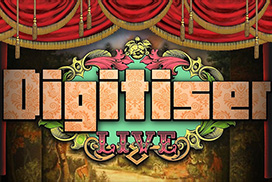 Chunky Fringe 2021 took place on 4 September 2021, having originally been scheduled for 25 July 2020, before being been postponed due to the COVID-19 pandemic. and will now be taking place on 4 September 2021.
The event was a celebration of teletext and old technology, taking place alongside Digitiser Live 2.0.
Details of the day will appear as and when they're shared, but for now please refer to the official website below.
CHUNKY FRINGE 2021 - OFFICIAL SITE
---
Do you know of any important moments from the annals of Digi history that have been omitted? If so, then mail me (superpage58@gmail.com) right now, man. Credit will be duly given for anything that gets put up.