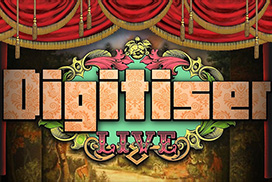 The first outing for Mr Biffo since his return to the Digitiser fray almost a year earlier, his panel at Play Expo Manchester 2015 was a proper Digi love-in. Biffo talked through his storied history with Teletext and Digitiser, and the whole hour-long panel is available below.
MR BIFFO: A LIFE IN TELETEXT WITH INTERVIEW - 10 OCTOBER 2015
Digitiser2000 articles
12 OCTOBER 2015 - MR BIFFO'S PLAY EXPO DIARY
---
Do you know of any important moments from the annals of Digi history that have been omitted? If so, then mail me (superpage58@gmail.com) right now, man. Credit will be duly given for anything that gets put up.