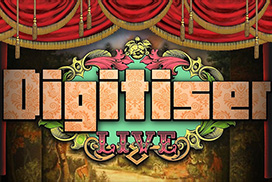 Star of Go 8-Bit and friend-of-Digi Steve McNeil's Video Game Game Show Show spun out of his successful WiFi Wars live events, with two teams of guests competing against each other at video games.
The audience is able to play along on their phones using the record-breaking technology developed for WiFi Wars, while Steve commentates on proceedings.
Many of the stars of Digitiser The Show appeared at one of these events in June 2019, acting as a sort of warm-up for Digitiser Live the following month.
Larry Bundy Jr and Octav1us teamed up to battle against Paul Gannon and Ashens, while Mr Biffo commentated on the action, making quips, dropping his microphone, and generally giving Steve McNeil a headache.
The night proved a great opportunity for the team to meet and hangout with members of the Digi fan community. Sketch-comedy heroes and Man's Daddy super-fans Asperger's Are Us were also in the audience, in town at the time for one of their own shows.
---
Do you know of any important moments from the annals of Digi history that have been omitted? If so, then mail me (superpage58@gmail.com) right now, man. Credit will be duly given for anything that gets put up.