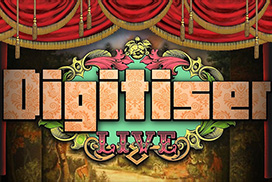 Ahead of the launch of Digitiser The Show in November 2018, members of the team attended Play Expo Blackpool the previous month to help promote their new retrogaming extravaganza.
Regular show presenters Mr Biffo, Paul Gannon, and Octav1us were joined by Kim Justice and DJ Slope for an anarchic live version of the show, which was largely unscripted and intentionally chaotic. Elements of the still-unseen Digitiser The Show were revealed to the public for the first time, and the performance served as a useful test-bed to try out ideas for Digitiser Live, which eventually took place in July 2019.
The show, including Biffo and Gannon fighting over a rubber sausage, was recorded in full and can be seen by directing your eyes in a downward fashion: now.
Digitiser2000 articles
29 OCTOBER 2018 - PLAY EXPO BLACKPOOL PRESENTS DIGITISER LIVE: MY PERSONAL REVIEW - BY MR BIFFO
---
Do you know of any important moments from the annals of Digi history that have been omitted? If so, then mail me (superpage58@gmail.com) right now, man. Credit will be duly given for anything that gets put up.