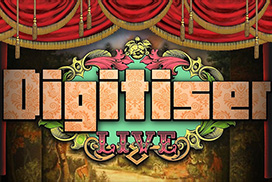 Principal photography had wrapped on Digitiser The Show only a few weeks before Play Expo rolled into London for the first time, during the scorching summer of 2018.
Originally slated to be a panel interviewing Mr Biffo about the show and its development, he sadly had to cancel his appearance at short notice. The panel went ahead, however, and became a sort of tribute to Biffo and his anarchic vision - so many stars of the show and its production were on stage that there was barely enough room for everyone.
Digitiser The Show co-hosts Paul Gannon, Octav1us, and Larry Bundy Jr were joined by Ashens, Nostalgia Nerd, Kim Justic, Quang Nguyen, and DJ Slope in a suitably chaotic, freewheeling discussion of the show's genesis and production.
A complete joyous shambles in classic Digitiser tradition, the panelists did the absent Biffo proud, and were the highlight of the event for the many Digi fans present.
The full panel is available for you to view below - if watching using the embed, the panel starts at 1 hour 30 mins into the video. Or you can skip straight to the action by watching it on YouTube. Other recordings of the panel are also available, which may have better audio or picture framing. The choice: is yours!
---
Do you know of any important moments from the annals of Digi history that have been omitted? If so, then mail me (superpage58@gmail.com) right now, man. Credit will be duly given for anything that gets put up.