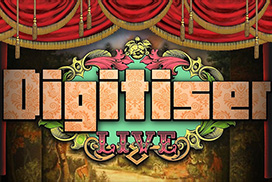 Digitiser reached a significant milestone in 2018, turning 25 years old on 1 January. The whole year was essentially an anniversary victory lap, but naturally much of the celebrating came early on. For this reason, the timing of Play Expo Blackpool in February couldn't have been better.
Mr Biffo had appeared on panels talking about Digi before, of course, but having the opportunity to really soak up the love in its silver anniversary year made this panel all the more good-humoured and celebratory than usual. This was especially the case with plans for Digitiser The Show starting to take shape at the time. You can watch the panel in full below.
DIGITISER 25TH ANNIVERSARY TALK WITH PAUL ROSE AKA MR BIFFO - 10 FEBRUARY 2018
Digitiser2000 articles
12 FEBRUARY 2018 - I DO LIKE TO BE BESIDE THE SEASIDE: PLAY EXPO BLACKPOOL 2018 ROUND-UP - BY MR BIFFO
---
Do you know of any important moments from the annals of Digi history that have been omitted? If so, then mail me (superpage58@gmail.com) right now, man. Credit will be duly given for anything that gets put up.