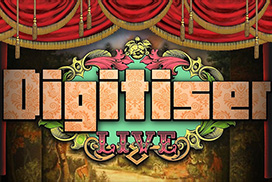 Super Page 58's Chris Bell meets Mr Biffo

| | |
| --- | --- |
| | |
Digitiser was on the air for a glorious ten years (and a couple of months). When the time came for it to end, Mr Biffo decided it was only right and proper to celebrate its lewd life with an equally lewd leaving party.
Shortly after he was victorious in the war with Teletext that was Digigate - safely restoring Digi's trademark humour - Biffo realised that now was the right time to bring the curtain down on his creation. Late in 2002, he took to the Edge forums to announce the sad news.
Between his departure and Digitiser's impending tenth anniversary, the planets were aligning for a big end-of-the-road blow-out:
Let's love it while we can - and have a party! In fact... a Biffo/Digi leaving party? That sounds like a brilliant idea. Who's going to organise it? I'm frighteningly serious. Everyone's invited. Central London sometime before Christmas? It's a date.

Uncle Biffo"
Festivities took place a little later than he'd planned, on the Friday before the final ever Digitiser in March 2003 - before anyone had even heard of 'The Real Turner The Worm Being Sick', let alone witnessed his glutinous expulsion.
The night itself was packed; testament to the love and admiration in which Digi and Biffo were held. A clutch of Edge forumites were present, along with Tim 'Mr Hairs' Moore, Gavin 'Mr Udders' Lambert, Alex Garland, Stuart Campbell, and a coterie of Teletext staffers, including Andy Panos, who subbed Digi in its final days.
Super Page 58's Chris Bell was also in attendance, whose first hand account of proceedings was swiftly written amid a severe "medium lager" hangover:
MR BIFFO'S DIGITISER LEAVING PARTY - BELLSTON'S JOURNAL
It was a time that can never be forgotten. Literally - we've really tried!!!!!!?!!
And so it ends. But it never really ends, does it? Not in Digitiser's case, certanily - give or take the odd 11-year hiatus.
---
Do you know of any important moments from the annals of Digi history that have been omitted? If so, then mail me (superpage58@gmail.com) right now, man. Credit will be duly given for anything that gets put up.