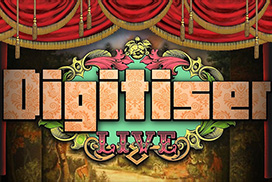 Fresh from hosting Digifest only a few months earlier, in March 2017 the Centre For Computing History in Cambridge put on a live show which was compered by Mr Biffo.
The night was a benefit show to raise money for games and tech fan Matthew Dons, who had recently been diagnosed with bowel cancer, and required immunotherapy treatment.
Biffo used the evening as an opportunity to preview the work that had been completed so far on Mr Biffo's Found Footage, showing The Awakening in full, as well as 2001: A Space Odyssey - The Animated Series.
Other performers on the night included Ash Frith and Iszi Lawrence, while Paul Gannon also performed a stand-up set, meeting Biffo for the first time as a result. The two Pauls hit it off, and left with talk of working together - Gannon going on to feature prominently in Found Footage, and later becoming an integral part of the Digitiser family.
The event was recorded in full by the Centre For Computing History, which you can watch: here.
---
Do you know of any important moments from the annals of Digi history that have been omitted? If so, then mail me (superpage58@gmail.com) right now, man. Credit will be duly given for anything that gets put up.