Mr Biffo has made various forays into taking Digi humour onto screens beyond Teletext. While his day job as a screenwriter for hit children's TV series keeps him busy - and the bills at bay - there have been various other projects over the years, which you can find below.

MR BIFFO'S FOUND FOOTAGE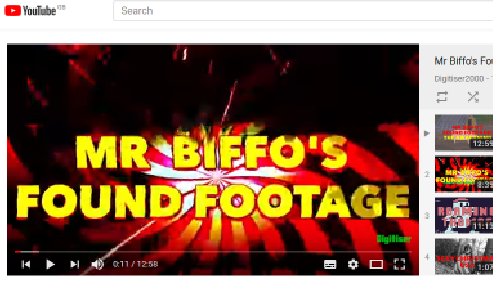 The series Biffo was born to make - a rip-roaring comedy-horror tour de force dredged from the depths of his brain stem. Featuring twisted humour, insane sketches, bizarre adverts, and everything you would expect to come from Biffo's fevered imagination when he doesn't have anyone but him to answer to. Created in 'found footage' style, pieced together from VHS tapes Biffo supposedly found in a carboot sale, it gradually tells a wider sci-fi story, and is essential viewing for all Digi fans. Hail Xenoxxx!
MR BIFFO'S FOUND FOOTAGE: THE PILOT
MR BIFFO'S FOUND FOOTAGE: THE AWAKENING
MR BIFFO'S FOUND FOOTAGE: CHRISTMAS SPECIAL 2016
MR BIFFO'S FOUND FOOTAGE 1: DREAM DRAWINGS
MR BIFFO'S FOUND FOOTAGE 2: ADVANCED STRANGULATION
MR BIFFO'S FOUND FOOTAGE 3: WHIMSY RODGERS
MR BIFFO'S FOUND FOOTAGE 4: MANORAK
MR BIFFO'S FOUND FOOTAGE 5: BROWN MIRROR
MR BIFFO'S FOUND FOOTAGE 6: GOUJON DAY
MR BIFFO'S FOUND FOOTAGE: THE TROJAN ARSE PROTOCOL
MR BIFFO'S LOST FOOTAGE: FEATURING GOUJON JOHN
MR BIFFO'S LOST FOOTAGE: EASTER SPECIAL
MR BIFFO'S LOST FOOTAGE: MONKEYS
MR BIFFO'S LOST FOOTAGE: SCIENCE
MR BIFFO'S LOST FOOTAGE: HOW ARE BABIES MADE?
MR BIFFO'S LOST FOOTAGE: THE END
---
BIFFOVISION - BBC THREE PILOT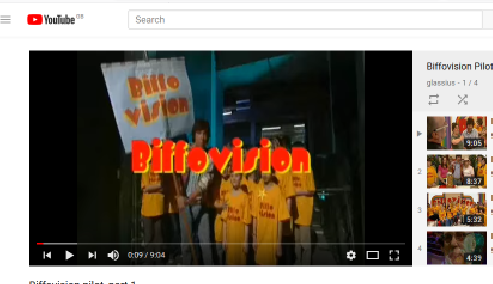 In 2006 Mr Biffo and Mr Hairs reunited for the first time in nearly ten years, working on a TV pilot for BBC Three. 'Biffovision' was a freewheeling mix of spoof Saturday morning children's TV show, sketches, and surreal humour in the grand Digi tradition. Biffo has since stated that it should be seen as the pilot for Found Footage - there are undeniably aspects and themes that are consistent across both projects. It could have made a wonderful series had it been picked up, but alas, following its broadcast in early 2007, that never came to pass. But at least we got to meet an android with a metal chuff!
---
KNIFE & WIFE: CHANNEL 4 COMEDY LAB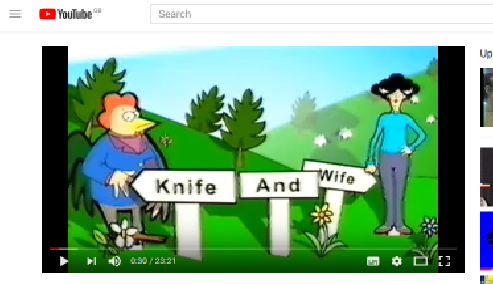 Another TV pilot - the first of Biffo's, in fact - from 2001, 'Knife & Wife' was based on the comic strips of the same name that Biffo had drawn since he was a kid, and had revived in hilarious style for Bubblegun. It featured such legendary talent as Terry Jones, Jessica Heinz (then Stevenson), and Kevin Eldon, and is notable for getting the expression 'moc-moc-a-moc!' on TV. Unfortunately it never hit the highs of the comic strip, or captured its spirit, and Biffo has since stated his disappointment with how it turned out. Still, though: a signifcant piece of Digi history.
---
Do you know of any important moments from the annals of Digi history that have been omitted? If so, then mail me (superpage58@gmail.com) right now, man. Credit will be duly given for anything that gets put up.