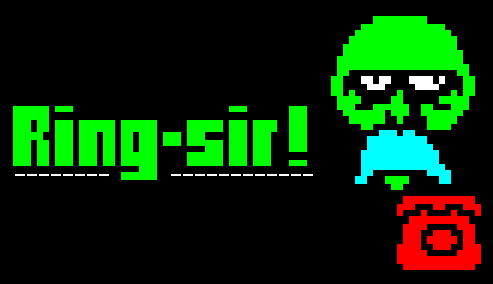 Games Helplines
29 April 1995
This is the age (week) of the phone helplines. I, Phoning Honey, have rapidly returned to bring you news of the phonus helpus. I will - damn! I will contact three companies, and pose with them as a troubled gamer.
This will help me to gauge their powers of helpen, and whether I will use them again.
1. MICROPROSE 01454 329510
Time to answer phone: 4 seconds
US: Got this game. Got Pizza Tycoon.
MICROPROSE: Do you need help with it?
US: Yes, yes. The music doesn't work.
MICROPROSE: At what point does it stop?
US: Just after the beginning, when that laughing drum shakes.
MICROPROSE: In fact, there isn't any music after the intro. Just effects.
US: Oh, how funny! But I have a Soundblaster 16, and all I get is this terrible scratching. Scratch... scratch. Is that people scratching their menus?
MICROPROSE: No! Try selecting SB Original, or failing that, send us a copy of your start-up files. Did you have to wait long for us to answer?
US: No. No I didn't. Quick! Bye-bye.
---
2. SIERRA 01734 303171
Time to answer phone: 2 seconds
US: I think this is bad, but I have a problem with Leisure Suit Larry.
SIERRA: The first one? Did you buy the Larry anthology?
US: I don't like shops or shopping. I found it in a... Tremendous! Help me.
SIERRA: Yes...
US: At the start, a taxi driver calls me "Bub". What does this mean? Is it his nickname from the Army?
SIERRA: Just a moment... (he confers). Yes, it's just an American slang term for "chum" or "buddy".
US: It made me want to kill him. May I?
SIERRA: (laughs) No! It's a comedy adventure game.
US: That's what they said about Wogan.
SIERRA: If you need tips you can get our tips line on 01734 304004.
US: Do you know, I think that would be just right. There is a cheat I need.
SIERRA: Yes, well...
US: No. I must tell you about it. I've heard, you see, that if one presses all the keys with "F" and a number on, like F3 and FC, Larry goes into overdrive...
(We now start to laugh and are obliged to terminate the call.)
---
3. NINTENDO HOTLINE 01703 652222
Time to answer phone: 5 seconds
US: Do you know the bit in Mario World with the dinosaurs - the Donut place?
NINTENDO: Yeah.
US: It says about the time and the coins. It makes it change. Two exits?
NINTENDO: What about it?
US: Well, how does the time and the coins affect the exit?
NINTENDO: Well, you have to get to the halfway point with 50 coins.
US: But it says about the time, and...
NINTENDO: Look, it makes no difference. You have to use the 50 coins.
US: Why, when you finish one bit, do blokes with orange faces come about?
NINTENDO: It's to show how far you are.
US: Are they there to scare me?
NINTENDO: Probably.
US: Is it true that there is a new Mario game coming out with his daddy in? Is it called Daddio?
NINTENDO: NO! There are no new Mario games coming out. No Mario games. None.
US: Goodbye then.
---
Phoning is over, results are getting fat. Look:
MICROPROSE: Prompt, courteous and efficient. Best line so far.
SIERRA: Very good line, apart from the laughing.
NINTENDO: A bit flash. Stay at this line-level.
EA: Didn't answer. Bad line.
---
Do you know of any important moments from the annals of Digi history that have been omitted? If so, then mail me (superpage58@gmail.com) right now, man. Credit will be duly given for anything that gets put up.