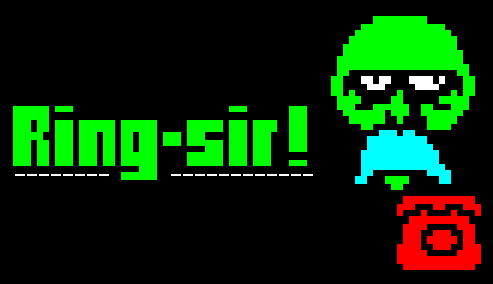 Pointless E3 Lie
1 June 1996
I am Phoning Honey - the man who picks up the phones to play the funnies.
You've probably read of my inane pranks in a book I wrote about my sort, which I called The Ivanhoe Complex.
Today, I'm going to call up some video game retailers and tell them about the fun I had in America at the E3 show. But don't worry: the shame of the shops is not reflected in their names.
1. "PLANET GAMES", MERSEYSIDE
US: Hey de hey... Davey-boy!
PG: Sorry?
US: I'm sorry. It's Carl Horkingsbeiss from MDK. I was hoping to meet up with one of you boys at the E3 show.
PG: The big show in America?
US: Yes. I just got back. You no go?
PG: We've never sent anyone there.
US: Los Angeles is quite a town.
PG: Ahh... so I've heard. Ermm...
US: I felt like a king - we all did. What's it they say? "I went to America and I felt like a big king".
PG: Listen, did you want a word with the boss? I could get him to call back.
US: Guess what we saw at E3.
PG: Well... the Nintendo 64?
US: No. Guess what was the best thing I saw at the E3 in LA, while you were sitting here in your little bog-hole.
PG: Look, mate...
US: Well, I'll tell you. I saw... oh, I dunno, a bone or something.
PG: What?
US: Oh, just forget it. Goodbye... Good BYE!
---
2. "ELECTROID", MANCHESTER
US: Hello, I've just got back from the opinion-forming E3 show in LA, and I wondered if you would like to hear some information about it.
E: Who's this?
US: Well, you know how it is. If this gets out, I could get blown away.
E: I don't... did you say information? What, about games - video games?
US: That's the sort of thing. I picked up some hot bagallah - it could make a big difference to your shop life, and your general life.
E: Is it just about games? Because we're trying to move away from...
US: Wise guy, huh? OK: here's the deal. For three quid I tell you about a new kind of pushing game I saw, and beyond that you're looking to at 10 notes for every time I talk about my wife. Money up-front, and damn you to hell. Cheers!
---
Do you know of any important moments from the annals of Digi history that have been omitted? If so, then mail me (superpage58@gmail.com) right now, man. Credit will be duly given for anything that gets put up.