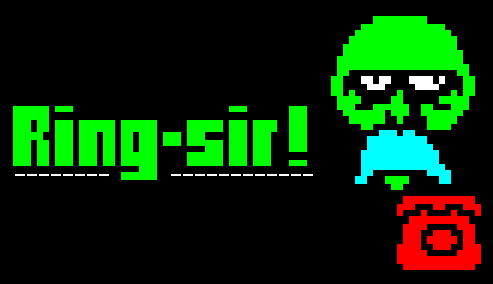 Mega Games - Charity Sponsor
19 July 1997
Hello, dad: I'm Mr Honey. That's Phoning Honey to YOU. Once again I've been calling the games shops, and been lying to them. It's excellent fun, and so far, I've never been arrested.
This week I've been testing the shop folk to see how kind they are, and whether they'd help me out and that. Can you guess what happened? Of course you can't! The names of the shops have been changed to prevent upsets. Go now.
"MEGA GAMES", BIRMINGHAM
US: Good afternoon. I'm calling from the organisation A.S.W.A.B. We're a charitable organisation bringing aid to the impoverished children in the island state of Benelux.
MG: Uh-huh.
US: We're looking for a sponsor for our current aid mission. Are you the manager of the shop?
MG: I'm in charge for now.
US: I'm glad you're in charge. What we're looking to do is put together an aid package for these poor Benelux kids, and we wondered if you, as an expert, might have some ideas as to what we could put in it.
MG: You mean like clothes and stuff?
US: Sorry, is that a games shop or a clothing emporium?
MG: What?
US: Never mind. What A.S.W.A.B. is really looking for is someone to donate a number of gaming machines to us for use in our current mercy mission.
MG: Right. So you want someone to give you, what, a couple of consoles so you can fly them out there?
US: Something like that. Do you think you'd be able to help the kids of Benelux?
MG: Possibly. I don't want to sound mercenary, but what's in it for us?
US: Helping us in this way would give you the benefit of a job well done. Plus, of course, we'd issue a press release thanking you for your generous donation.
MG: And where are these kids that we'd be helping?
US: Benelux. It's a small war-torn state off the coast of... Jamaica.
MG: I see. Well, I'm sure we could sort something out. Perhaps if you could write to us, or...
US: I'd rather not waste time writing to you. The telephone is a far more honest way of doing business.
MG: Sure, but I have no guarantees that you're genuine, do I. You could be anyone.
US: I take it you have seen the news reports from Benelux?
MG: Well, yeah, but...
US: Then you appreciate the urgency of this situation.
MG: I'm sure it's urgent, but...
US: The thing is, if we don't make the next flight out, we're not going to make it back onto the island until the volcano has stopped erupting. It could be weeks before those kids get their next look at a Sega Gamestation.
MG: Yes, but I can't just hand over consoles to everyone that rings up.
US: You are an evil, heartless imbecile.
MG: And so are you.
---
Do you know of any important moments from the annals of Digi history that have been omitted? If so, then mail me (superpage58@gmail.com) right now, man. Credit will be duly given for anything that gets put up.