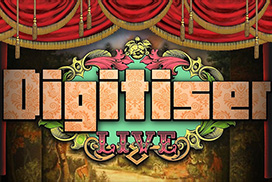 COMMUNITY COVERAGE OF DIGITISER LIVE - 20 JULY 2019
Click the links below if embedded videos fail to play.
Reheated Pixels - Meatspace001: Digitiser Live at Harrow Arts Centre [VIEW ON YOUTUBE]
---
Do you know of any important moments from the annals of Digi history that have been omitted? If so, then mail me (superpage58@gmail.com) right now, man. Credit will be duly given for anything that gets put up.
Digitiser Live 2019 | Digitiser Live Events