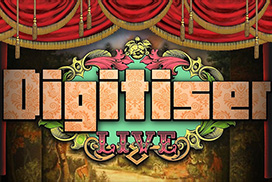 Mr Biffo and the team bring Digitiser chaos lewdly into the live arena

| | |
| --- | --- |
| | |
The culmination of the Digitiser The Show project, in the summer of 2019 a live Digitiser spectacular took place that went way beyond what anyone expected at the outset - least of all the team themselves. While the content may have been inspired by it, Digitiser Live was far more than merely a live version of an episode of the show.
Digi on stage turned out to be an exercise in taking the format to its extremes, with incredible ambition and neverending ideas being thrown into the mix by Mr Biffo, right up until curtain time. Adding in generous amounts of absurd humour, physical comedy, classic Digi characters - and a bit about games too, probably - the evening was a riotous, semi-improvised triumph.
Joining Mr Biffo and the hosting team of Paul Gannon, Octav1us, and Larry Bundy Jr, were a veritable who's-who of UK retro gaming YouTubers, plus viral sensation and longtime Digi fan, standup comedian Sooz Kempner. The result was a relentless, almost bewildering onslaught of funnees.
The event was a smash, and immediately went down in Digi history - and notoriety (certainly as far as audience members previously unfamiliar with Digi madness were concerned, anyway).
Not just about the show, Digitiser Live became a moment for its fans to come together, meet, and catch up with friends from the online community. The fan-run afternoon Chunky Fringe event added to the sense of community, with Digi fans old and new revelling in their love of Biffo's work, and celebrating how - against all reason and expectation - a teletext video games section had somehow spawned all of this more than 25 years on from its launch.
The whole day was a joyous, life-affirming experience that will never be forgotten.
And now you can relive it all - by going back in time!
Or alternatively by watching it below:
Videos
DIGITISER LIVE FULL VIDEO
BRONK'S TRIBUTE OFFICIAL VIDEO
DIGITISER LIVE AUDIENCE RECORDINGS
DIGITISER LIVE COMMUNITY COVERAGE
Digitiser2000 articles
15 JULY 2019 - WHAT TO EXPECT AT DIGITISER LIVE
19 JULY 2019 - THE DIGITISER FRIDAY LETTERS PAGE
22 JULY 2019 - DIGITISER LIVE: A THING THAT HAPPENED
23 JULY 2019 - A GLORIOUS GALLERY OF DIGITISER LIVE PHOTOS
26 JULY 2019 - THE DIGITISER LIVE FRIDAY LETTERS PAGE - DEDICATED TO THE MEMORY OF BRONK
---
Do you know of any important moments from the annals of Digi history that have been omitted? If so, then mail me (superpage58@gmail.com) right now, man. Credit will be duly given for anything that gets put up.