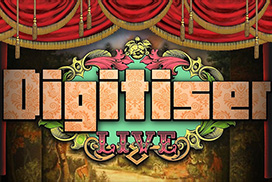 Chunky Fringe's own teletext service featured content made for the event

| | |
| --- | --- |
| | |
Chunky Fringe was a semi-official, fan-run event organised by David Walford, that took place on the afternoon of Digitiser Live 2019.
Billed as a gathering of Digitiser fans, teletext enthusiasts, performers, and artists, the free event was a celebration of the work of Mr Biffo, teletext, and retro tech in general.
Panels took place throughout the afternoon featuring guests including such scene luminaries as Ashens, Digitiser co-creator Tim Moore (Mr Hairs), Mentski, teletext archaeologist Jason Robertson, Peter Kwan, and a host of people involved with Mr Biffo's Found Footage. Why, even Chris Bell of this very website was involved for good measure.
While the panels went ahead at one end of the room, exhibitors took up the rest of the space with demonstrations of amateur teletext services (Chunky Text was put together by Alistair Cree for the event, filled with contributions from across the community), live teletext recovery, homebrew games, and all manner of curiosities. Paul Gannon popped in too - and was promptly mobbed by fans - selling copies of CheapShow Magazine, along with blind bags of tat acquired in the line of duty for his comedy economy podcast.
Chunky Fringe provided a fitting warm-up to Digitiser Live, which began almost immediately afterwards in the building next door, and an excellent slice of community Digi-love.
Fans old and new were able to celebrate its absurd glory together. Being among fellow fans who actually understand why they care about a daft old teletext games section is a rare thing, and Chunky Fringe was appreciated all the more for this reason.
All three panels from the afternoon were filmed and can be viewed below, along with another video giving you a little look round:
VIDEO - DIGITISER PANEL - FEATURING ASHENS, CHRIS BELL (SUPER PAGE 58), MENTSKI & TIM MOORE (MR HAIRS)
VIDEO - MR BIFFO'S FOUND FOOTAGE PANEL - FEATURING SAM ANDERSON, STEVE BAKER, JOE HIGGINS, CHRISTOPHER JERDEN-COOKE & DAVID WALFORD
VIDEO - TELETEXT RECOVERY PANEL - FEATURING CHRIS BELL (SUPER PAGE 58), PETER KWAN, JAMES O'MALLEY & JASON ROBERTSON
VIDEO - A WALK ROUND CHUNKY FRINGE
OFFICIAL WEBSITE - ARBITRARYFILES.COM
CHUNKYTEXT - OFFICIAL TELETEXT SERVICE OF CHUNKY FRINGE
UNPACKING CHUNKY FRINGE - BY ORGANISER DAVID WALFORD
Glimpses of proceedings from Chunky Fringe also pop up throughout the Reheated Pixels video coverage of the whole day.
---
Do you know of any important moments from the annals of Digi history that have been omitted? If so, then mail me (superpage58@gmail.com) right now, man. Credit will be duly given for anything that gets put up.
Digitiser Live 2019 | Digitiser Live Events