1993 - Chinderella
CAST IN ORDER OF HEIGHT
Chinderella - a pork concubine
The Man With A Long Chin
Peter & Kermit - two ugly ponies
DIY "Kelly" and Doctor Tina
Patterson - a fairy godmonkey
Auntie Chapman
"Batons" - a young hairless nipper
Duncan
Prince Charming - a cow-pokin' bully
TV's Danny Taurus
Count Vlad Dracul - a camp fire
The Fear Taunter
---
It is July, 1976. The Korean War has left England a desolate wasteland. Famine and spite engulf many shoppers, forcing the Government to impose a width restriction on a busy North London canal.
People gather along the banks of the canal; gentlefolk, searching for hideous nuggets of horse flesh.
Amongst their number is Chinderella, a dancing eskimo. Our story starts in one such castle...
SCENE 1 - VLAD DRACUL'S CLUB HOUSE
(Chinders is "sweeping". The Two Ugly Ponies look on, laughing.)
Chinders: Sigh, I'll never get to go to the Easter Parade at these rates.
Ponies: Clean. Make soup. Spin. Do all these things fast.
Chinders: I will try, but it's very hard with no x-ray specs.
(Enter Count Vlad Dracul and Babs Windsor-Davros.)
Dracul: Ah, Poneez, I have-a just-a receive de ticket for-a de Parade? Here we go? Cluck cluckety cluck?
Ponies: Thankyou, Mother.
Chinders: Can I go too?
Babs: No.
Dracul: We're going to-a de Parade now?
---
SCENE 2 - THE HERB CUPBOARD
(The others have left for the Parade. Chinders is left all alone.)
Chinders: I am crying. Who can make me not do crying at all?
Hairy Godmonkey: I shall help. There's no need to cry, you ugly football.
Chinders: Huh? Who? Whassa? Buitoni?
Hairy: I'm a Hairy Godmonkey. Yes.
Chinders: I want to go to the Parade.
Hairy: You may do so, my lovely ladel.
Chinders: Buitoni?
Hairy: Have you an old man's rubber brother and two figs (big)?
Chinders: I have. They are there.
Hairy ("waving the wand"): Arm of Laurence, Lung of Paul, you're now going to the Ball!... Parade.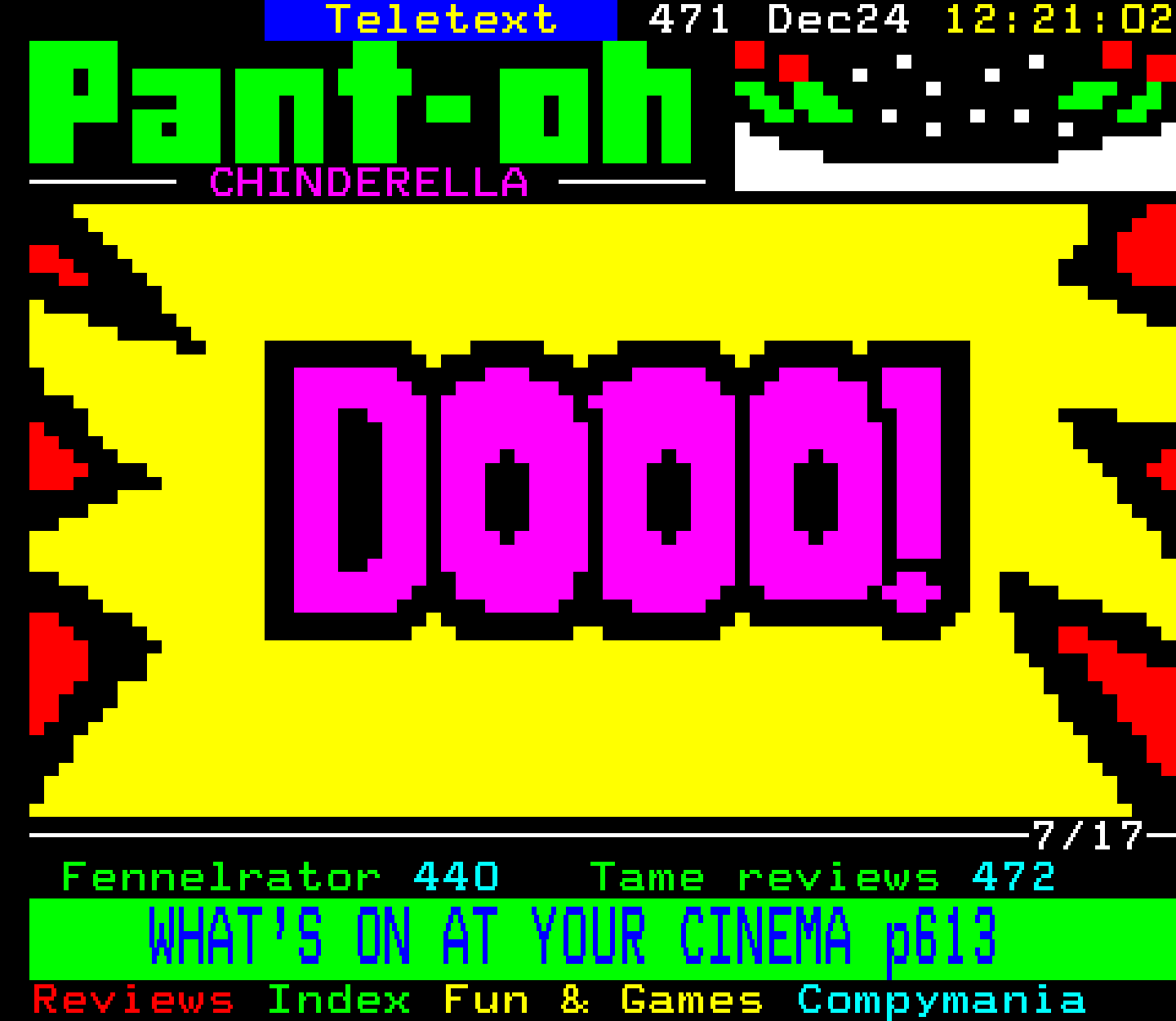 Chinders: Oh, Hairy! I may attend the parade wearing a splendid granite bib, and be ferried there by a magnificent arrangement of pulleys and magnets.
Hairy: Yes. But on three conditions.
Chinders: I don't know what they are.
Hairy ("blowing the wand"): Firstly, you must stick a flaming orb up your snout. And finally, never, under any circumstances, shall you do none of that (she vomits) "Brown Dancin'".
---
SCENE 3: The Easter Parade. "Batons" is delighting the crowd with a bravura display of cat-droppings.
Batons: Hoop-la! Whooooooosh! See how they fly through the air!
Charming: I don't know where I am.
Dracul: Prince, can I a-introduce a-you to my two lovely poneez? They're great.
Ponies (sliding): Oh, Prince! Could we interest you in both these eggs?
Charming: Away with your eggs. Pray tell, who is that breathtaking maiden with the roughest bib... in... Europe:
Chinders: It is I, sire, Chind...
Ponies (interrupting): Prince! Prince! Look at our foaming, frothy broth!
Charming: Shut it, you two ponies. This gingery oaten was about to reveal her name to me. Proceed, oaten.
Chinders: I am Mrs Ian Womack.
Charming: Would you dance with me, Mrs I Womack? I am here. Do dances?
Chinders: Yes, but I am forbidden to do any of that "Brown Dancin'".
Batons: Remember, no broken lollies.
Charming: No, we no broke lloollooo...
(They begin dancing.)
Chinders: Womack does "Brown Dancin'"!!
(What follows is a uncensored account of the full effect of Chinders' "brown dancin'". Some viewers may be hurt.)
A bell rings, signalling the arrival of TV's Derek Batey. Batey, assuming nothing is happening, "sprays" the grouting. Grouting wilts, coating nine of the principal players.
A honk erupts from the "Knees Of The World". The chamber undergoes a startling transformation...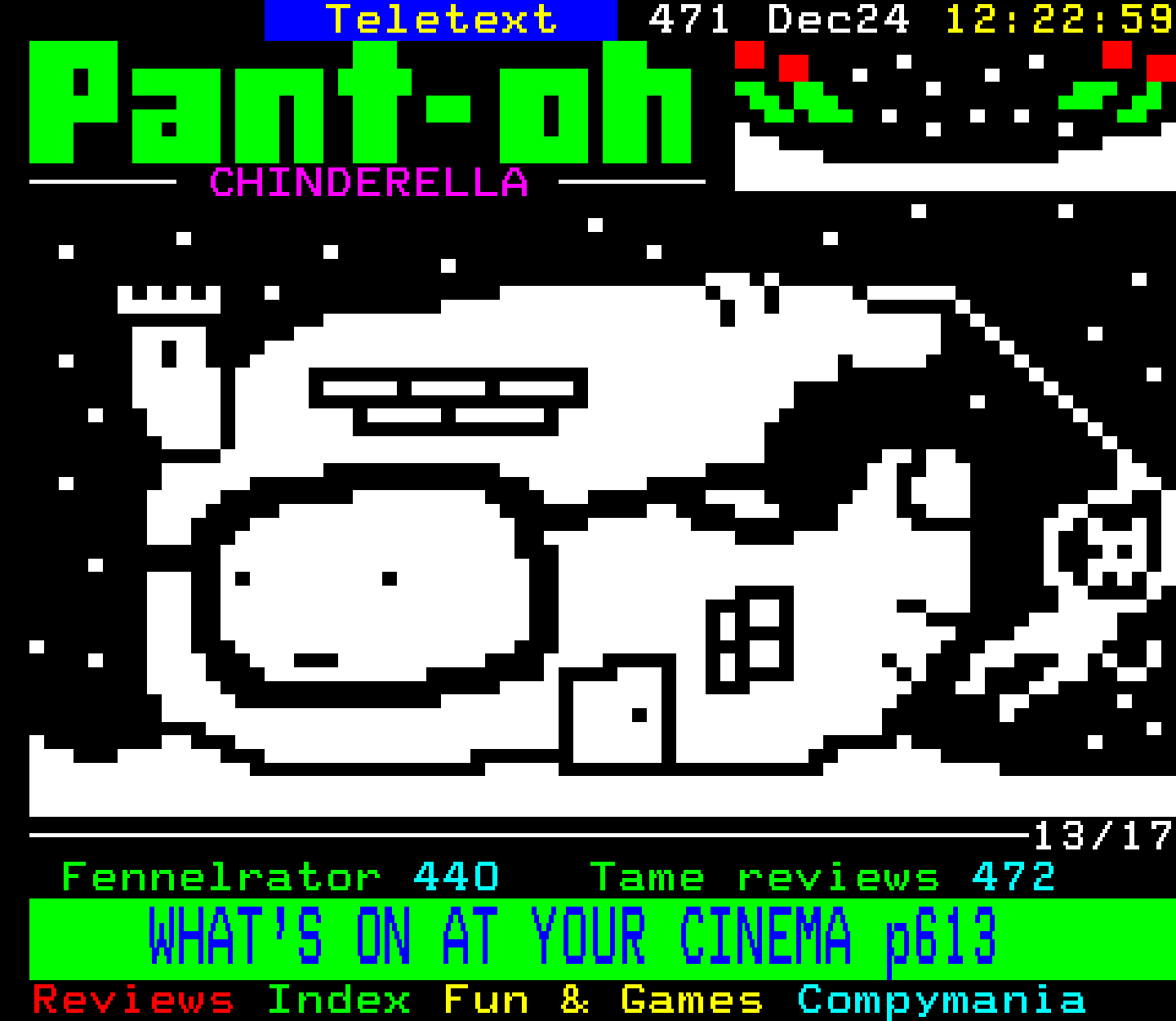 Charming: Why has the room changed, Mrs Ian Womack? Why is this... happen... ing?
Chinders: Because you made me do the kissing and the dancin' ("brown").
Charming: Will you carry me, Womack?
Chinders: No.
Charming: Good.
Chinders: No.
Batons: Hey everyone, have you heard? Charming and Womack are injuns! Ain't that the Swedish thing you ever heard?
Everyone: Hooray!
Charming: Yes, and now Womack and myself must die singing.
Chinders: Die? Why?
Charming: Well, surely you've heard the tale of the two people in France who died? Hahhahhaha! Let us sing!
---
Chinders' Song
This Christmas: Free Stains At Asda
It may be Christmas time,
But people still get hurt,
They all eat glass you see,
And some of them eat dirt,
It may be Winter time,
But people still get hot,
Some burn their hands with coal,
But some of them do not.
It may be telly time,
But people still watch fruit,
They first like how it looks,
But then they start to hoot.
CHORUS:
Christmas is a time for boys,
Picking rancid flesh off toys.
It may be dinner time,
But people still go blind,
Some poke their eyes with sticks,
Has somebody gone deaf round here?
THE END
---
More pant-ohs to read with your eyes: here
1994 - JACK AND THE BENA-MO
1995 - DAVID BELT AND THE SEVEN DWARVES
1997 - BABES IN THE WOOD
1998 - HONEY I SHRUNK THE DWARVES
1999 - SNOW BROWN & THE SEVEN SPORKS
2000 - THE WIZARD OF OZ: PART 2
2002 - SNOW WHITE & THE SEVEN DWARVES
2014 - DAVID BELT & THE BEANSTALK: PART ONE, PART TWO (DIGITISER 2000)
2015 - CHANDERELLA (DIGITISER 2000)
2016 - HALLOWEEN PANT-OH: THE WOMAN IN BROWN (DIGITISER 2000)
2017 - THE WIZARD OF OZ (DIGITISER 2000)
2018 - FARTING (SLEEPING) BEAUTY (DIGITISER 2000)
2020 - DIGITISER'S A CHRISTMAS CAROL
---
Do you know of any important moments from the annals of Digi history that have been omitted? If so, then mail me (superpage58@gmail.com) right now, man. Credit will be duly given for anything that gets put up.