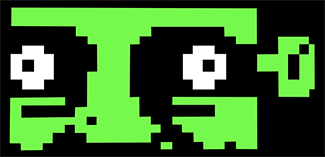 Mr Biffo wrote a monthly column for Edge, the respected multi-format games magazine, from 2003 until 2008. It started exactly as Digitiser was bowing out on Teletext in March 2003, in fact, with Biffo being described within as a 'semi-retired games journalist'. Edge had long been supporters of Digi, printing an excellent retrospective piece and interview with Biffo for Digi's tenth anniversary. As it was winding down on Teletext, Biffo had asked Edge if they were interested in a regular column from him - being brained-up sorts, they of course said yes. And! Some of those columns can now be found: here.
EDGE #121, MARCH 2003 - THE ACCIDENTAL JOURNALIST
EDGE #122, APRIL 2003 - MR BIFFO MOST DEFINITELY DOES NOT LOVE 1982
EDGE #123, MAY 2003 - OKAY CLASS, TURN ON YOUR PS2S AND TURN TO LEVEL FIVE
EDGE #124, JUNE 2003 - THE GAMES INDUSTRY CAN EAT SHIT AND DIE
EDGE #125, JULY 2003 - TOO MUCH, TOO SOON - AND WE'RE ALL PAYING FOR IT
EDGE #130, DECEMBER 2003 - ISN'T IT ABOUT TIME LARA CROFT WAS SACKED AS A VIDEOGAME FIGUREHEAD?
EDGE #131, CHRISTMAS 2003 - GAMES ARE NOT BOOKS OR FILMS. DISCUSS
EDGE #132, JANUARY 2004 - JOHN: WE KNOW HOW TO BEHAVE! WE'VE HAD LESSONS
EDGE #133, FEBRUARY 2004 - ON STAYING 17 AND GROWING BREASTS. KIND OF...
EDGE #136, MAY 2004 - WORK, DAMMIT
EDGE #137, JUNE 2004 - SCRIPT FOR A TESTER'S TEAR
EDGE #140, SEPTEMBER 2004 - A TALE OF TWO DAVIDS
EDGE #147, MARCH 2005 - GIRL TALK: IS YOUR BOYFRIEND A VIDEO GAME ADDICT?
EDGE #153, SEPTEMBER 2005 - SECRETS AND LIES
EDGE #156, DECEMBER 2005 - LISTING BADLY
EDGE #164, JULY 2006 - FEELING GREEN
EDGE #165, AUGUST 2006 - IS SONY HISTORY?
EDGE #166, SEPTEMBER 2006 - REFUND, SIR?
EDGE #168, NOVEMBER 2006 - DOES GAMING NEED CELEBRITIES?
EDGE #172, FEBRUARY 2007 - IS LENGTH EVERYTHING?

---
Do you know of any important moments from the annals of Digi history that have been omitted? If so, then mail me (superpage58@gmail.com) right now, man. Credit will be duly given for anything that gets put up.