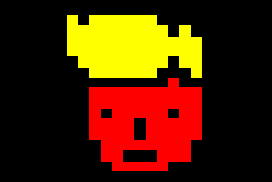 Insincere Dave is the little red guy with the unending enthusiasm for absolutely everything he hears about. First appearing in early 1999 as another resident of the mini-news roundup page, Dave commented on the news in the most positive terms imaginable, no matter the news, its tone, or how negative the connotations may be. He's just so enthusiastic about everything!!!!!!
As ever with Digi, there was more to Dave's appearances than there superficially seemed. He was in fact intended as a satire of David Gibbon, the press release-regurgitating writer of BBC Ceefax's games section at the time, who was responsible for some of the most notoriously vapid and uncritical games writing ever seen.
It's highly unlikely that Insincere Dave - as his name suggests - was genuine in any of his unrelenting praise at all. This resulted in every compliment and bout of well-wishing taking on a subversive form condescension and ridicule aimed at the games industry's seemingly eternal parade of idiots. He became a fan favourite character as a result, going on to feature in Digitiser The Show, played by YouTube royalty in the form of Stuart Ashen.
See his OTT support for all and sundry undeserving saps at this time: now.
---
---
Do you know of any important moments from the annals of Digi history that have been omitted? If so, then mail me (superpage58@gmail.com) right now, man. Credit will be duly given for anything that gets put up.