Links? You want links? Well, stuff these in your filthy bosom, Graham...
This list of some of the most significant Digi-related pages on the web is very probably lacking in notable inclusions - if you know of any links that really ought to be on this page, then mail me (superpage58@gmail.com) right now, guv.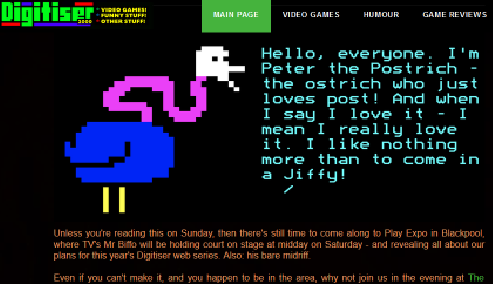 Digitiser2000 is the current incarnation of our beloved Digi, rebooted by Mr Biffo as a blog. Featuring the same kind of humour, reveal-o-jokes, and excellent writing, it should be your first stop for Digi reading in the Space Year 2000AD.
DIGITISER2000: GAMES OF MY YEARS
The Games of My Years series will be of particular note to anyone interested in the history of Digitiser (and indeed, Biffo himself). We're taken on a comprehensive tour of Digi's inception, through its glory years, hitting the notorious Digigate rocks, and then coming roaring back for a swell final few months:
Games of My Years: 16-BIT Part 1
Games of My Years: 16-BIT Part 2
Games of My Years: Digitiser Part 1
Games of My Years: Digitiser Part 2
Games of My Years: Digitiser Part 3
Games of My Years: Digitiser Part 4
Games of My Years: Digitiser Part 5
Games of My Years: Digitiser Part 6
Games of My Years: Digitiser Part 7
Games of My Years: Digitiser Part 8
Games of My Years: Digitiser Part 9
Games of My Years: Digitiser Part 10
Games of My Years: Digitiser Part 11
Games of My Years: A Cheesy Coda by Adam "Mr Cheese" Keeble
DIGITISER2000: DIGITISER AT 25
Digi turned the grand age of 25 on 1 January 2018, and Biffo treated us to a whole stuffed gut full of content celebrating this proud anniversary. Not only were there retrospective look-backs to complement the Games of My Years series, but a full week's worth of actual classic Teletext-style Digi, created by Biffo from scratch. It was an absolute joy.
Digitiser At 25: Part 1
Digitiser At 25: Part 2
Digitiser At 25: Part 3
25 Years of Digitiser: Day 1
25 Years of Digitiser: Day 2
25 Years of Digitiser: Day 3
25 Years of Digitiser: Day 4
25 Years of Digitiser: Day 5
---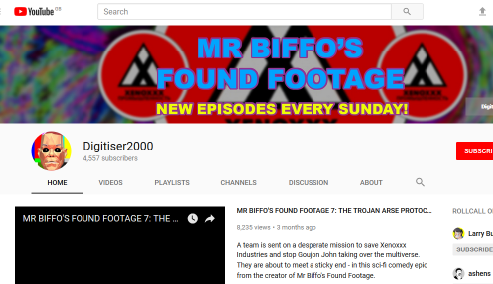 The official YouTube page of Biffovision (formerly Digitiser2000), featuring exactly the sort of absurd videos you would want from such a thing. Including the epic web series, Mr Biffo's Found Footage. Hail Xenoxxx!
---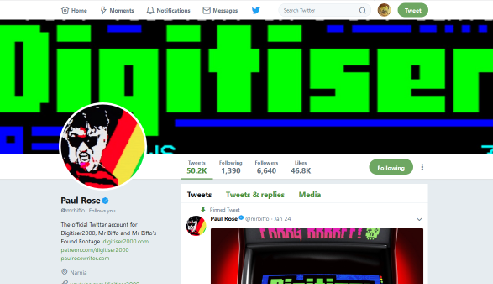 All the major players in Digi lore feature on Twitter, and it's often the first place you'll hear about new Digi events and projects. It goes without saying that you really should be following Mr Biffo, but all the great Digi writers are there, including Calvin 27, Sextus McSwine, and even Gand! Do the follow thing now:
Paul Rose (Mr Biffo)/Digitiser2000
Tim Moore (Mr Hairs)
Violet Berlin
Steve Horsley

---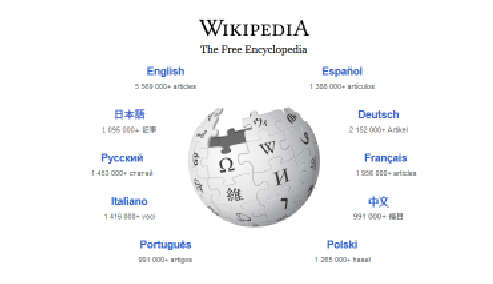 It's a proud thing knowing that Digi had such a great influence and "ruffled" so many "feathers" that both it and its writers came to merit articles on Wikipedia. The Digi article is nice and comprehensive and definitely worth a look if you want to "gen up" futther.
Digitiser Wikipedia entry
Paul Rose (Mr Biffo) Wikipedia entry
Tim Moore (Mr Hairs) Wikipedia entry

---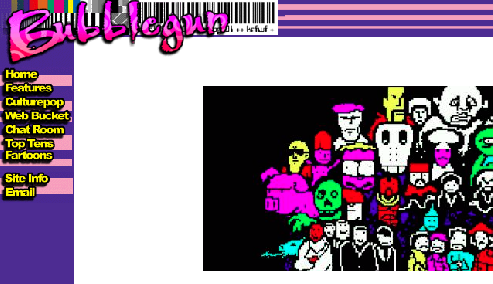 Bubblegun was an offshoot site from Digi, started by Biffo and Steve Horsely in the late '90s. It took a humourous look at pop culture, and featured a number of familiar Digi characters such as The Snakes, Zombie Dave, and Dr Derek Doctors, as well showcasing Biffo's 'Knife & Wife' cartoon strips. The site hasn't been updated in a number of years, but it's kept online now as an archive.
---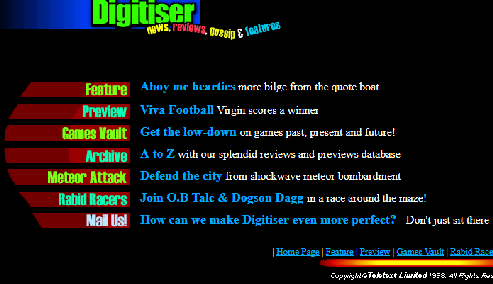 The original - official - Digitiser page on Teletext Ltd.'s own webiste. Long since offline, this is recovered from Archive.org. There's not an awful lot here, but it's a curious piece of history, with its mix of broadcast-Digi articles and playable games featuring typically Digi characters.
---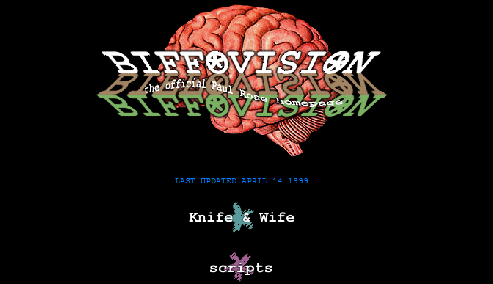 Biffovision was the original personal home on the web for Biffo's work. It sprung up around the time he started trying to break into scriptwriting, and featured samples of a number of projects he'd been working on, plus a range of early 'Knife & Wife'. In Digi's later years it featured a message board - The Board Of Biffo - wherein the community could mingle and proceed to cuss each other bad (sadly).
---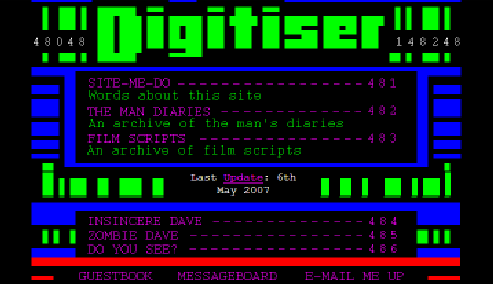 David McCaffery's 'Digi-Me-Do' fansite - known to many simply as 'moleman.freeserve.co.uk' - has been offline now for some years (recovered here from Archive.org), but while it lived it was an excellent site featuring screengrabs of classic Digi moments, reveal-ohs, and archived Man Diaries. It certainly helped me out a few times when I had to catch up after going away on holiday, or being tied-up in a papoose, or something.
---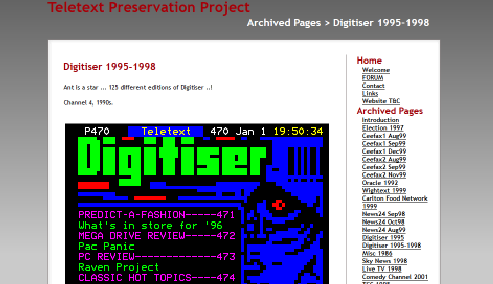 These people are doing important and holy work. The Teletext Preservation Project aims to keep a central archive of Teletext screenshots recovered from old VHS tapes, and it just so happens they have nearly three whole years' worth of classic Digi. Spanning 1995-98, this is a treasure trove, with all sorts of lost gems to be found, from Prints, to a Jarvis Cocker's 'Simu-Sing', Hugh Grant celeb 'poster', and far more than I can list. Somebody give them a medal.
---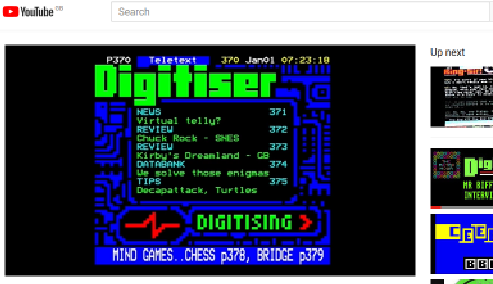 Some most excellent person has recovered the very first edition of Digi to air, from 1 January 1993, off of an old VHS tape - probably using bits of dental floss and "mastic" and that - and stuck it up for all to see. What an absolute gent.
---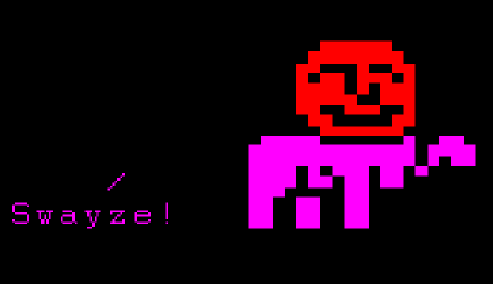 Biffo has been kind enough to speak his brain-thoughts to a number of inquisitive fans over the years. Many of these interviews can be found on YouTube, some of which are linked here. Swayze!
Play Expo Blackpool 2018: Digitiser 25th Anniversary Talk with Mr Biffo
The Retro Hour interview with Mr Biffo
Retro Unlim: Hangin' Out With... Paul Rose AKA Teletext's Mr Biffo AKA Mr Digitiser
Teletextr Podcast 04, March 2016 - Teletext After Hours

---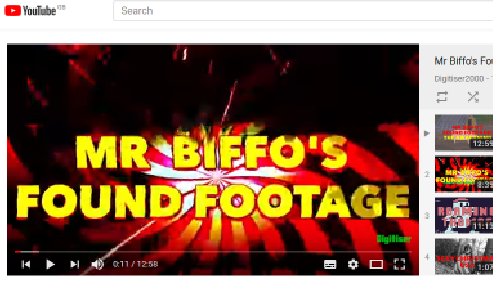 The series Biffo was born to make. A rip-roaring comedy-horror tour de force dredged from the depts of his brain stem, featuring twisted humour, insane sketches, bizarre adverts, and everything you would expect to come from Biffo's fevered imagination when he doesn't have anyone to answer to. Created in 'found footage' style, pieced together from VHS tapes Biffo supposedly found in a carboot sale, it gradually tells a wider sci-fi story, and is essential viewing for all Digi fans. Hail Xenoxxx!
---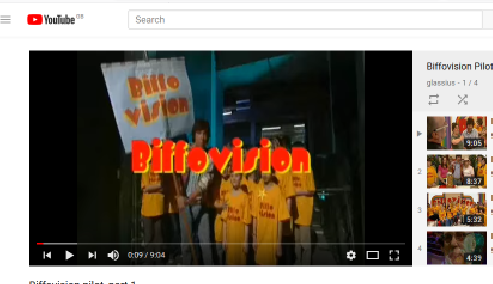 In 2006 Mr Biffo and Mr Hairs reunited for the first time in nearly ten years, working on a TV pilot for BBC Three. 'Biffovision' was a freewheeling mix of spoof Saturday morning children's TV show, sketches, and surreal humour in the grand Digi tradition, and could have made for a wonderful series had it been picked up. Alas, that never came to pass - but at least we got to meet an android with a metal chuff!
---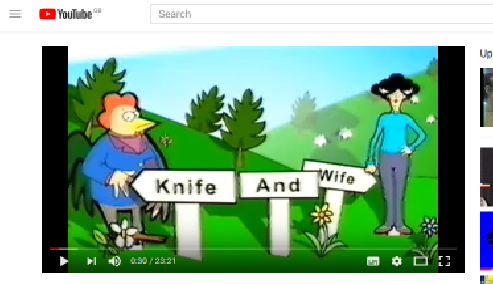 Another TV pilot - the first of Biffo's, in fact - from 2001, 'Knife & Wife' was based on the comic strips of the same name that Biffo had drawn since he was a kid, and had revived in hilarious style for Bubblegun. It featured such legendary talent as Terry Jones, Jessica Heinz (then Stevenson), and Kevin Eldon, and is notable for getting the expression 'moc-moc-a-moc!' on TV. Unfortunately it never hit the highs of the comic strip, or captured its spirit, and Biffo has since stated his disappointment with how it turned out. Still, though: a signifcant piece of Digi history.
---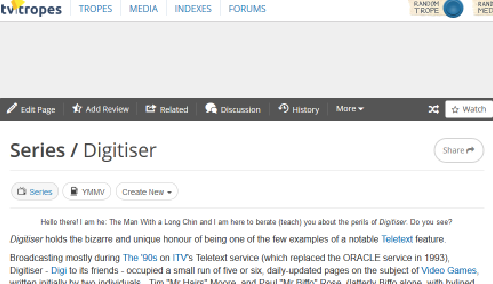 Still hungry for my encyclo-Digi reminisci-words? The Digi entry on TV Tropes.org goes beyond the Digi Wikipedia page, with some juicy fact-ohs that will make your brain stem quiver.
---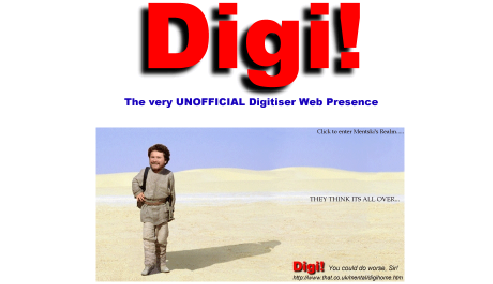 Mentski's 'Digi!' was one of the first Digitiser fansites on the web (recovered from Archive.org), and in the early days was probably the most significant, seeing as it featured the first known interview with Mr Biffo - wherein he relayed to us the 'Handsome Crab' origin of Digi humour as we knew it. Sadly, that interview is no longer accessible through this snapshot, but there's plenty of other interesting stuff if you care to dig about for flakey bits.
---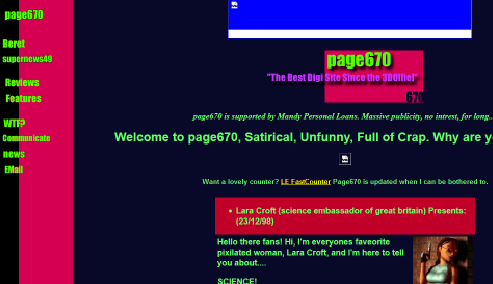 Page 670 was another of the original raft of Digi fansites, gracing the web just two months after Super Page 58. It immediately set itself apart with its original writing, including a Man Diary-inspired journal documenting the adventures of The Man's pink beret, which at this point didn't feature on his Digi graphic. A curious look back at the kind of fan-run site that used to be commonplace in the mid-to-late '90s 'Geocities' era.
---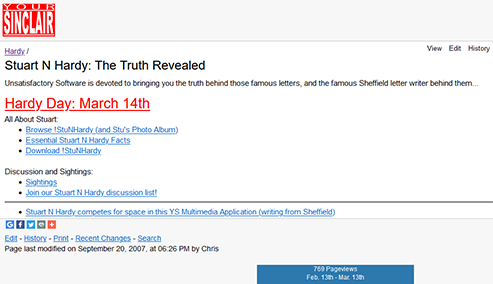 A whole website (recovered from Archive.org) dedicated to Sheffield's most infamous resident, frequent Digi correspondent (among many others), and King Of The Mess-Ups himself, Stuart N Hardy. Such was Hardy's infamy that Chris Young's Unsatisfactory Software was committed to documenting his many and varied appearances across the UK's letters pages. We may never know the full truth about the man himself, but for Hardyologists, this is a goldmine of information.
---
Do you know of any important moments from the annals of Digi history that have been omitted? If so, then mail me (superpage58@gmail.com) right now, man. Credit will be duly given for anything that gets put up.